The
auction
is well under way! We're raising money for Breast cancer research.
I bought this necklace for myself for my birthday! It was created by Ruth Rae, Deryn Mentock and Shari
Here's what the listing said (written by Kelly Snelling)
This beautiful bracelet was created collaboratively by a group of fabulous artists for the book by Ruth Rae and me, Kelly Snelling, A Charming Exchange. And now, many of the pieces from the book are being auctioned here in October, during Breast Cancer Awareness month.

Not long after we started working on our book in 2007, I discovered that I had breast cancer. Ruth pulled a few of the artists together to make a special keepsake bracelet to lift my spirits, to encourage me, and to remind me that I am loved. A copy of this bracelet graces the cover of our book and will be for sale this month on Ebay to benefit breast cancer research.
Our friend and fellow contributing artist, Joanna Pierotti, was also fighting breast cancer during the making of this book. Since so many of the pieces we created were collaborative, we had to decide what would become of them when the book was finished. We all agreed that the collaborative pieces we made together would be auctioned to raise money for breast cancer research. So the profits from your purchace will be donated to Susan G. Komen for the Cure. You can learn more about the projects and people who made them in A Charming Exchange or by visiting our book blog at http://acharmingexchange.blogspot.com

This beautiful piece is titled Nature's Gift and was made by Ruth Rae, Shari Beaubien, and Deryn Mentock
Nature's Gift was also featured in the Autumn '09 issue of the magazine Belle Armoire Jewelry.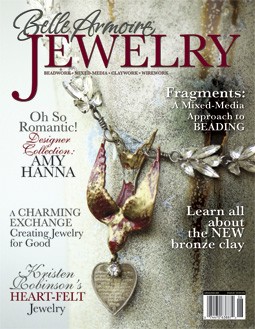 Shari Beaubien frequently uses heart images in her magical mixed media pieces. For this pendant, she brought out the shape of the heart in this little nutshell.
Using steel, Ruth created a necklace of long coiled links and sparkling beaded segments. Then, to show off the pendant, she created a wire-wrapped bar of fibers and beautiful beads, which is reminiscent of a cocoon. Lastly, she added a wonderful bird's nest, also made from steel, by Deryn. And there you have this gorgeous necklace known as Nature's Gift. This is surely a gift every girl would be overjoyed to receive. – Kelly